GOLDBERG GROUP PHOTOS PAGE 9
HERSZ JOCEK TEMPELCHOF, TAUBA RYFKA KRZYWE AND FAMILY
Photo 01-09-01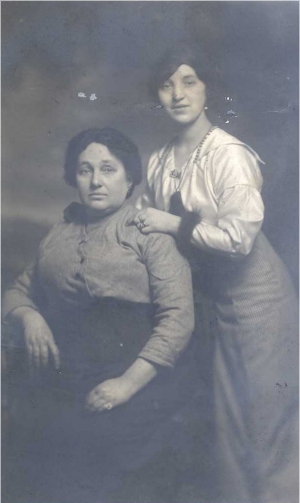 Tauba Ryfka Tempelchof (née Krzywe) and her daughter Dacha (aka Dora) Shulzinger (née Tempelchof)
Tauba Ryfka's family was from the town of Aleksandrow Lodzki, a few miles outside Lodz. She married in
Aleksandrow in 1878, and came to London between 1905 and c.1908. She died there in 1940.
Dora was born in Lodz in 1888 and came to London shortly before this photo was taken. She died there in 1960.
See more photos of Dora and her family
Photo donated by Lynda Temple
Photo 01-09-02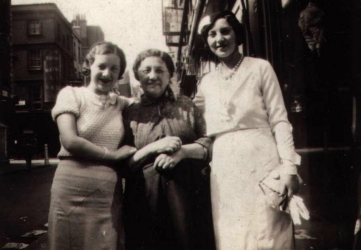 Marie Goldberg (later Marks), Tauba Ryfka Tempelchof (née Krzywe) and Bella Goldberg (later Linder)
Inscription on reverse reads: "Sweet Grandma. Aug 1932"
Photo from estate of Marie Marks