TYSZKOWSKI GROUP PHOTOS PAGE 3
ZELIG TYSZKOWSKI (LATER SOLLY TISKOFSKY),
BRAJNA (BRINA) KOWALSKA AND FAMILY
Photo 03-03-01

Photo 03-03-02

Photo 03-03-03

My beloved great-grandmother, Brajna Kowalska (later Brina Tiskofsky)

Brajna was born in Radzilow in 1891 and emigrated to London in 1905, aged 13, following her father's death in 1900, and her mother's subsequent re-marriage. She married Zelig Tyszkowski in London in 1914 and died there in 1956.

London, 1906

Believed to be the first photo of her taken after she arrived in London in 1905. Her dress has a decidedly Eastern European feel to it.

Inscription on reverse reads:

"Brinah Kovalsky"

London, 1909

In this photo, her clothes are more Edwardian in style.

London, 1910

By this time, she is clearly a few

years older, and wearing a very smart English dress.

Photo donated by Daphne Morris

Photo from estate of Lynda Harvey

Photo donated by Daphne Morris
Photo 03-03-04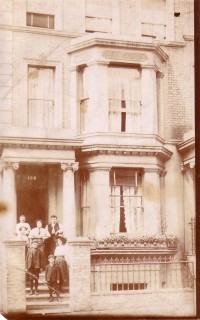 This photo was part of the estate of Lynda Harvey, and shows a group of people in period dress standing on the steps of a huge, rambling, Victorian town house, numbered 108. This is the house in which Brajna Kowalska worked as a skilled buttonholehand in her early years in London, while she was living with her uncle and aunt, Chaim Alter and Etka Linenberg. Brajna appears in the centre of the group, and her age dates the photo to around 1915.
Careful study of the photo reveals that it is, in fact, a photograph of another photograph, as suggested by the black border around two of its sides. It may be the case that the original photo was taken during Brajna's period of employment, and she later had the photo photographed itself, in order to preserve it. I have included it on Shmuelbennachum.com as a good example of the type of house in which so many young people worked as domestic servants in the late 19th and early 20th centuries, but also in order that the family pictured may be identified and copies of the photo circulated to their descendants.
Do you recognise anyone in this photo?

Do you know the name of the street on which the house stood?

Do you know if the street or the house still exist?
If you can suggest answers to these questions, please contact me at saulmarks@hotmail.com.
Photo from estate of Lynda Harvey
Photo 03-03-05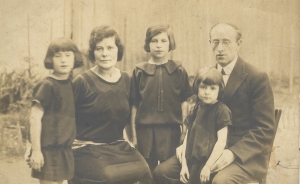 (left to right)
Hannah (Anne) Tiskofsky (later Gaden, then Gaden-Nathan)
Brajna (Brina) Tiskofsky (née Kowalska)
Miriam (Mary) Tiskofsky (later Ziman)
Jane Tiskofsky (later Goodman)
Zelig Tyszkowski (aka Solly Tiskofsky)
London, c.1923
Zelig's family emigrated from Radzilow to London in early 1901, when he was 11. He married Brajna in London in 1914
See Zelig's family's listing on the 1901 census
Photo donated by Daphne Morris
Photo 03-03-07

Photo 03-03-08

Photo 03-03-09

(left to right)

Hannah (Anne) Tiskofsky (later Gaden, then Gaden-Nathan)

Jane Tiskofsky (later Goodman)

Miriam (Mary) Tiskofsky (later Ziman)

London, c.1919

(left to right)

Jane Tiskofsky (later Goodman)

Hannah (Anne) Tiskofsky (later Gaden, then Gaden-Nathan)

Miriam (Mary) Tiskofsky (later Ziman)

London, c.1919

(left to right)

Miriam (Mary) Tiskofsky (later Ziman)

Hannah (Anne) Tiskofsky (later Gaden, then Gaden-Nathan)

Jane Tiskofsky (later Goodman)

London, c.1923

See the girls' father's listing on the 1901 census

Photos all donated by Daphne Morris
Photo 03-03-12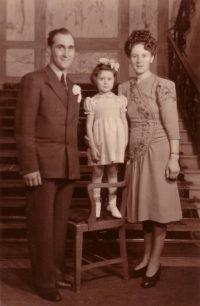 My grandparents, Jack and Jane (née Tiskofsky) Goodman, with my mother, Ilona Goodman (later Marks)
Porchester Hall, Porchester Road, Bayswater, London, W2, 11 July 1946
Taken on the occasion of Jane's aunt's wedding
See Jane's father's listing on the 1901 census
Photo donated by Evelyn Fisher
Photo 03-03-15

The Tiskofsky Family

London, February 1950

(back row, left to right)

Julius (aka George) Ziman

Lynda Harvey

Montague Max Morris

Daphne Morris (née Tiskofsky)

Reuben Gaden

(front row, left to right)

Miriam (aka Mary) Ziman (née Tiskofsky)

Zelig Tyszkowski (aka Solly Tiskofsky)

Brajna (Brina) Tiskofsky (née Kowalska)

Hannah (aka Anne) Gaden (née Tiskofsky)

See Zelig's family's listing on the 1901 census

Photo donated by Daphne Morris
Photo 03-03-16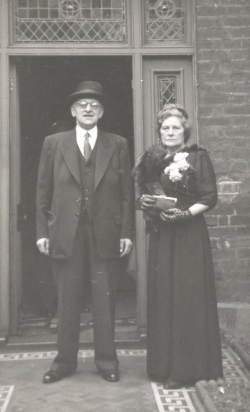 Zelig Tyszkowski (aka Solly Tiskofsky) and Brajna (Brina) Kowalska
Taken on the occasion of Harry Lynne's wedding to Beryl Woolf
Outside the Linenberg family home, 152 East Acton Lane, London W3, 22 June 1952
See Zelig's family's listing on the 1901 census
Photo donated by Daphne Morris
Photo 03-03-17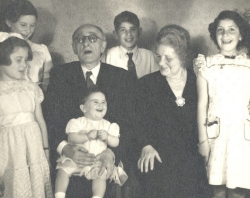 (left to right)
Arna Goodman (foreground; later Ronen)
Ilona Goodman (background; later Marks)
Zelig Tyszkowski (aka Solly Tiskofsky)
Angela Morris (later Stanton), on her grandfather's lap
Peter Douglas Ziman
Brajna (Brina) Tiskofsky (née Kowalska)
Jacqueline Ziman (later Pollock)
London, about 18 July 1954
See Zelig's family's listing on the 1901 census
Photo donated by Daphne Morris