TYSZKOWSKI GROUP PHOTOS PAGE 15
MISCELLANEOUS AND GROUP PHOTOS
Photo 03-15-01

(back row, left to right)

John Blackman

Chaim Alter Linenberg

Jane Appelbaum (later Govendir)

David Blackman (né Dawid Szwarcberg)

Lewis Blackman

(middle row, left to right)

Bella Linenberg

Etka Linenberg (née Szwarcberg)

Abram Szwarcberg

Jane Linenberg (later Daniels)

Rachel Blackman (née Cohen)

Jane Blackman (later Levy)

(front row, left to right)

Lily Linenberg (later Thomas)

Mary Linenberg

Photo taken during the visit of Abram Szwarcberg, London, 1913

Abram Szwarcberg visited England in 1913, and then returned to Radzilow, where he died c.1922.

Dawid and Etka were children from his first marriage, and they came to London in the early 1890s.

See the Linenberg family's listing on the 1901 census

See more photos of the Linenberg family

Go to David Jacobs' Szwarcberg family website

Photo donated by Marion Jacobs
Photo 03-15-02

(back row, left to right)

Chaim Kowalski

Binyamin Poritzky (né Porycki, later Dotan)

Chaja Poritzky (née Kowalska, later Dotan)

Yehudit Kaminski (née Judes Kuberska)

Efraim Kaminski

(front row, left to right)

Hinda Kowalska (maiden name unknown)

Mejer Kowalski

Izrael Mosze Kowalski (later Moshe Peled)

Esther Kowalski (née Estera Dwojra Kaminska)

Israel, c.1928

Chaim and Mejer are first cousins. Mejer is second cousin of Esther and Chaja, who are half-first cousins!

Esther is Efraim's aunt, so Efraim and Izrael Mosze are not only first cousins (through Esther), but also third cousins (through Mejer)!

This photo shows a number of branches of the huge Kowalski family, all of whom had emigrated to Israel by the late 1920s. The photo appears to have been given to Lynda Harvey by Mejer Kowalski on her 1970 visit to Israel, and it is labelled in her handwriting on the reverse.

See more photos of Mejer, Esther and Izrael Mosze

See photos of Esther's brother's family, who emigrated to England

Photo from estate of Lynda Harvey
Photo 03-15-03

Photo 03-15-04

Bencyjon Dorogoj and his distant cousin Paulie Rogoff (née Pesza Kowalska)

Probably taken during Paulie's trip to Israel in October 1949

Bencyjon was born in Radzilow in 1918 and made aliyah to Israel in 1935, where he later fought in the War of Independence. His parents and a number of his siblings were killed in Radzilow during World War II. He died in 1977.

Paulie was born in Radzilow in 1904 and moved to New York in 1921, where she married in the same year.

Her mother and a number of her siblings settled in Israel, and she and family made various trips to see them

over the years. She died in 1981.

See more photos of Bencyjon Dorogoj on José Gutstein's Radzilow website

See Paulie's ship manifest from her return voyage on this occasion

Photos donated by Amy Stover, from the estate of Eileen Rothman.
Photo 03-15-05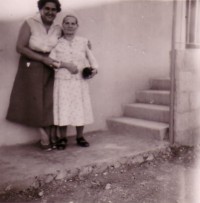 Gitl Spilkevitz (née Chorazycka, left) and her great-aunt,
Rochel Leja Kowalska (née Krakowska)
Taken outside the apartment of Gitl's sister, Yaffa Braverman, Jerusalem, c.1950s
Reverse bears the inscription "Gitel" in Hebrew
Gitl was born in Radzilow in 1903 and witnessed one of her sisters shot and killed in a police raid on their home in the late 1910s. She moved to New York in 1922 and lived to be 99.She died in 2002.
Rochel Leja was born c.1878, probably in Wasosz, and married Gitl's great-uncle, Nochym Mendel Kowalski there in 1898. Their children emigrated to both the USA and Israel and, after Nochym Mendel died, Rochel Leja moved to Tel Aviv in 1939. She also lived into her 90s, and died in 1974.
See more photos of Gitl and her family
See her immigration listing on the Ellis Island database
See more photos of Rochel Leja and her family
Photo from estate of Lynda Harvey
Photo 03-15-06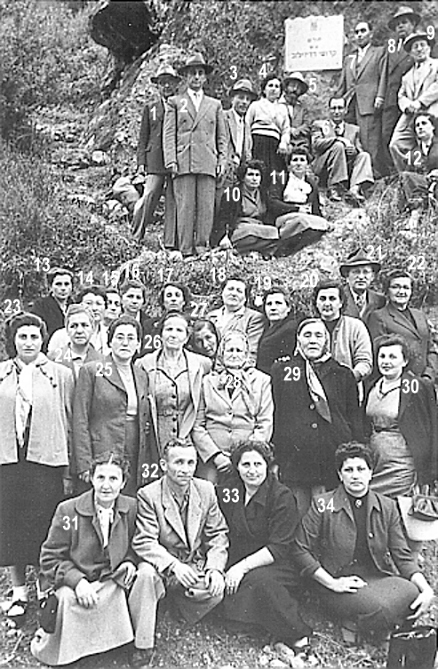 | | | |
| --- | --- | --- |
| 1 | Israel Finkelstein (né Finkielsztejn) | husband of 15 |
| 2 | Jacob Szimborski | husband of 26 |
| 3 | Marek (aka Mordechai) Braverman | husband of 14 |
| 4 | Chaya Dotan (née Kowalska, then Poritzky) | wife of 7; first cousin of 27; niece of 29; distant cousin of 8, 9, 12, 14, 30 & 33 |
| 5 | Abraham Isaac Merchavia (né Marchewka) | |
| 6 | Abraham Kilchevsky (né Kielczewski) | brother of 23 |
| 7 | Binyamin Dotan (né Porycki; Poritzky in Israel) | husband of 4 |
| 8 | Ephraim Kaminski | husband & first cousin of 16; nephew of 9; distant cousin of 4, 12, 14, 30 & 33 |
| 9 | Mejer Kowalski | uncle of 8, 12, 14, 30 & 33; distant cousin of 4, 24 & 27 |
| 10 | Yaffe Kubersky (née Malinowicz) | sister of 18, daughter of 28; see below photo, no. 9 |
| 11 | Rachel (née Gryngras) | |
| 12 | Sora Malka Kamin (née Niedzwiecka, then Berenson) | sister of 30 & 33; niece of 9; first cousin of 14; distant cousin of 4, 8, 24 & 27 |
| 13 | (unknown) | |
| 14 | Yaffe Braverman (née Szejna Chorazycka) | wife of 3; niece of 9; first cousin of 12, 30 & 33; distant cousin of 4, 8, 24 & 27 |
| 15 | Chaya Finkelstein (née Wassersztejn) | wife of 1 |
| 16 | Judes Kaminska (née Kuberska) | wife & first cousin of 8; distant cousin of 4, 9, 12, 14, 30 & 33 |
| 17 | Bella Inbar (née Bejla Staroletna, then Lichtensztejn) | see below photo, no. 8 |
| 18 | Bruriah Levenhertz (née Malinowicz) | sister of 10, daughter of 28 |
| 19 | Miriam (aka Mirchy) Ebensztejn (née Zandler) | see below photo, no. 6 |
| 20 | Yaffe Wassersztejn | |
| 21 | Heshel Slovatizky (né Slawatycki) | |
| 22 | Sora Szejna Kowalska (née Zilbersztejn) | |
| 23 | Sara Krakowsky (née Kielczewska) | sister of 6 |
| 24 | Cjrl (aka Bobchy) Bomasz (née Piechota) | possibly mother of 25; distant cousin of 9, 12, 14, 30 & 33 |
| 25 | Rivkah (née Bomasz) | possibly daughter of 24 |
| 26 | Perl Szimborski (née Lichtensztejn) | wife of 2 |
| 27 | Frida Aharoni (née Frejdka Kowalska) | daughter of 29; first cousin of 4; distant cousin of 8, 9, 12, 14, 30 & 33; see below photo, no. 4 |
| 28 | Zelda Malinowicz (née Zoladz) | mother of 10 & 18 |
| 29 | Etka Leja (aka Leichi) Kowalska (née Kreplak) | mother of 27; aunt of 4 |
| 30 | Tova Akerman (née Niedzwiecka, then Berenson) | sister of 12 & 33; niece of 9; first cousin of 14; distant cousin of 4, 8, 24 & 27 |
| 31 | (unknown) | |
| 32 | Yakov Bourstein (né Bursztyn) | |
| 33 | Shoshana Davidovich (née Rywka Reizil Niedzwiecka, then Berenson) | sister of 12 & 30; niece of 9; first cousin of 14; distant cousin of 4, 8, 24 & 27 |
| 34 | Chana Rejzil Zilbersztejn | |
Photo taken in Israel on the occasion of planting trees in the JNF's Diaspora Forest, c. late 1950s
Photo 03-15-07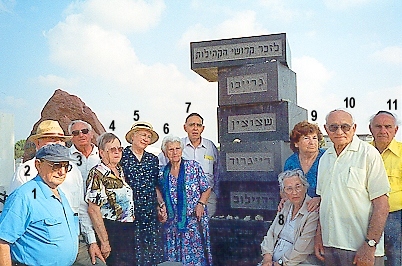 | | | |
| --- | --- | --- |
| 1 | Bencyjon Kowalski | brother of 11, second cousin of 2 & 4, distant cousin of 7 |
| 2 | Mejer Hersz Kowalski | brother of 4, second cousin of 1 & 11, distant cousin of 7 |
| 3 | Moshe Malinowicz | brother of 9 |
| 4 | Frida Aharoni (née Frejdka Kowalska) | sister of 2, second cousin of 1 & 11, distant cousin of 7; see above photo, no. 27 |
| 5 | Chasida Cohen (née Kuberska) | |
| 6 | Miriam (aka Mirchy) Ebensztejn (née Zandler) | see above photo, no. 19 |
| 7 | Avraham Dotan (né Poritzky) | distant cousin of 1, 2, 4 & 11 |
| 8 | Bella Inbar (née Bejla Staroletna, then Lichtensztejn) | see above photo, no. 17 |
| 9 | Yaffe Kubersky (née Malinowicz) | sister of 3, wife of 10; see above photo, no. 10 |
| 10 | Reuven Kubersky | husband of 9 |
| 11 | Mejer Kowalski | brother of 1, second cousin of 2 & 4, distant cousin of 7 |
Holon Cemetery, 1997