DAVIS TISKOFSKY nATURALISATION DOCUMENTS
| | | |
| --- | --- | --- |
| | Davis Tiskofsky (né Dawid Tyszkowski), 1864-1928 | |
These are the main details extracted from Davis Tiskofsky's naturalisation papers:
CATEGORY

RESPONSE

Name

Davis Tiskovsky

Address

2 Mount Street, Whitechapel, East, London

Nationality

A Subject of Russia

Place and Date of Birth

Edvabno, in the Province of Lomza Gouberney, 1st November 1864

Parent' Names and Nationalities

Myer Chazam Tiskovsky and Hannah Tiskovsky, both subjects of Russia

Age

46

Trade

Tailor

Marital Status and Dependent Children

Married, with a wife named Sarah Rebecca, aged 47 years, and 6 children under age residing with him, viz:

| | |
| --- | --- |
| | Solly Tiskovsky, aged 19 years |
| | Dinah Tiskovsky, aged 17 years |
| | Rachael Tiskovsky, aged 15 years |
| | Lilly Tiskovsky, aged 9 years |
| | Jacob Tiskovsky, aged 8 years |
| | Abraham Tiskovsky, aged 5 years |

Place of Business

2 Mount Street, Whitechapel, London

Place of Residence in Last Five Years

| | |
| --- | --- |
| November 1905 to May 1909: | 32 Buress Street, St Georges, London |
| May 1909 to the present time: | 2 Mount Street, Whitechapel, London |

Reason for Naturalisation

His desire to become a Naturalized British subject

Mark or Signature

D Tiskofsky

Date of Declaration

22nd February 1911, at 1a Coborn Road, Bow, Middlesex

Agent

Mr Harry Joseph, 11 Foulden Road, Stoke Newington

Commissioner for Oaths

Sydney W Hack, 8 Pancras Lane, Queen Street, London

(Referee for Verification of Address)

Nathan Lyons, 22 Grafton Street, Mile End, London, Secretary to Friendly Societies (signed 3 March 1911)

(Referees)

Aaron Goldberg, 153 Stepney Green, London, passage broker (signed 14 March 1911)

Harris Cohen, 12 Morgan Street, Mile End, London (signed 18 March 1911)

Isaac Abrahams, 15/16 Tredegar Terrace, Tredegar Square, Bow, London, tailor (signed 31 March 1911)
There appeared to have been a delay in the process of sending the appropriate forms between the various organisations, and this note was written on the front of the file in June 1911:
C.I.D.S. REPORT
Favourable.
? Grant Certificate but [so as to prevent this agent from falling into Powell and Smith's evil ways] in asking for fee return Memorial and applicant's declaration, and say that in view of the time that has elapsed since it was made, the latter must be remade and reidentified with the Memorial.
W.T.K.
12 : 6 : 11
A police report is also included:
METROPOLITAN POLICE
CRIMINAL INVESTIGATION DEPARTMENT,
NEW SCOTLAND YARD,
29th day of May 191 1
With reference to the application of Davis Tiskovsky, a Tailor, of 2 Mount Street, Whitechapel, E. for a certificate of naturalisation.
I beg to report that the declarations of residence have been enquired into found correct.
The Sureties are respectable and responsible persons, householders and natural-born British Subjects, all of whom speak of Memorialist as a respectable man.
Memorialist appears to be a respectable man, and according to enquiry has for five years, within the period of the eight years last past, resided in the United Kingdom, intends to remain permanently, and seeks to obtain the rights and capacities of a natural-born British Subject.
The signatures of Memorialist and Sureties have been acknowledged as genuine, and the age stated by Memorialist appears to be correct.
Memorialist speaks and reads the English language fairly well. He cannot write it from dictation but an exercise copied by him from a newspaper cutting is attached.
The residence of Memorialist consists of six rooms, a kitchen and scullery for which he pays rental of 15/6 per week and £3. 10s. 10d. per quarter for rates and taxes. Two rooms on the ground floor are sublet as workshops at a rental of 7/- per week and one room on the first floor, which is used as a living room, is sublet at 5/- per week.
Memorialist's rooms are fairly well furnished, are kept clean and in good sanitary condition.
He has six children under age residing with him, all of whom appear to be healthy and well cared for.
With reference to Home Office Minute: From enquiries I have ascertained that the cause of the delay in submitting papers to Home Office was owing to the fact that the Referee, Isaac Abrahams on two occasions failed to attend at the Solicitor's Office to sign his declaration, which was eventually signed by him there on the 31st March, 1911.
Otto Albers, Sergeant
Here is the passage Davis was asked to copy: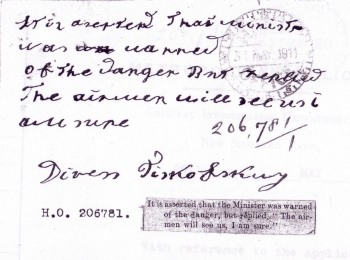 It is asserted that the Minister was warned of the danger, but replied, "The airmen will see us, I am sure."
Davis' Certificate of naturalisation was granted on 7 September 1911, and he signed the Oath of Allegiance on 16 September.
TNA refs: Papers: HO144/1133/206781. Certificate: HO334/53/A20660. Photo donated by Daphne Morris.