THE DESTRUCTION OF 73 CHEVENING ROAD
INTRODUCTION
My grandparents' house, 73 Chevening Road, Kensal Rise, London NW6, was destroyed in World War II.
My dad tells the story that, one evening in October 1940, two weeks before his fourth birthday, his father was putting him to bed in the air raid shelter in the garden when the house took a direct hit from a German bomb. His mother - my grandmother - was in the house at the time and miraculously survived, although she suffered an arm injury which required hospitalisation. He and other family members believe the trauma of this event also led to her development of chronic depression from 1948, which haunted her for many years.
My dad remembers the inside of the air raid shelter and even how it smelt! He remembers, in the immediate wake of the bombing, being in his father's arms in the queue for the reception centre, which was at the synagogue on the corner of Chevening Road, where he would be Bar Mitzvah some nine years later.
Beginning in the summer of 2008, I have been investigating the destruction of the house, in an attempt to find out what information was recorded about it. This page presents the fruits of my research.
THE LAST BOMB?
My dad has always included in his telling of the story that enemy bombing had occurred that night on the rail tracks at nearby Willesden Junction. He believes that one German plane, having completed its drop, was returning to base when it was realised that there was one bomb remaining in the hold. It was released and landed on 73 Chevening Road. My dad remembers a phrase being used, to the effect that his mother was "the only one to come out alive" from the wreckage of the house, suggesting there were a number of fatalities, but no-one in our family was killed.
CHEVENING ROAD TODAY
Chevening Road is a very long residential road running broadly south-west to north-east, nearly a mile in length, with large Edwardian (or perhaps late-Victorian) houses on both sides. There is a break in the original housing where numbers 71, 73 and 75 stood, implying that three houses were destroyed, of which my grandparents' was the middle one.
Google Earth allowed me to establish that No 71 was the last in a terrace of four houses, while Nos 73 and 75 were the first set of semi-detached houses which make up the second half of the road. In place of the destroyed houses is a small block of six flats obviously built after the war to replace them:
Chevening Road today, showing the block of

flats that replaced the three destroyed houses

(Photo: Google Earth, 5 March 2006)

The block of flats from the ground

(Photo: Saul Marks, 17 July 2008)
In order to get a good idea of what the original 73 Chevening Road looked like, I took a photo of No 77, which is exactly the same type of semi-detached house as No 73 was: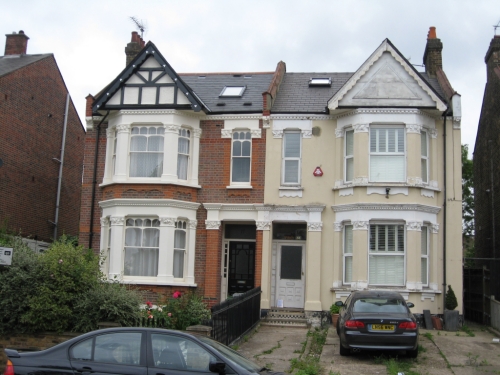 Nos 77 and 79 Chevening Road, which are effectively identical to the
original Nos 73 and 75, which were both destroyed, along with No 71.
The detailing in the windows of No 77 is almost certainly original and
suggests the houses were built in the Edwardian era.
(Photo: Saul Marks, 17 July 2008)
HOSPITAL

To the right is the discharge certificate from my grandmother's stay in hospital, which we found amongst her papers when she died in 1999. The full text reads:

Mrs Marie Marks, aged 27, of 73 Chevening Road, NW6, was under inpatient treatment from 14:10:40 to 4:11:40 at Willesden General Hospital, suffering from contusion of nerves of right arm, the result of war injury on 14:10:40 at Willesden.

This was the first piece of documentary evidence I ever obtained that related to the incident, and it fixes the date of the destruction of the house:

MONDAY 14 OCTOBER 1940

Marie Marks

c.1938

Marie Marks' hospital discharge certificate, having survived the bombing
RAF RECORDS
The RAF have uploaded their contemporary reports of the Battle of Britain to their website, and they make fascinating reading. The entry for 7.00pm to 9.00pm on the evening of 14 October reads:
About 27 raids from the Dutch Islands entered the Thames Estuary and crossed the Coast between Shoeburyness and Orfordness. The majority flew over London from the north, but a few appeared to be active over East Anglia. About 40 raids from the direction of the Somme and Fecamp Crossed the Coast between Shoreham and Dungeness and flew to the London area. Raids from the Channel Islands crossed the Coast between Poole and Portland and flew to the Birmingham and Coventry areas. Isolated raids were plotted over Liverpool, Blackburn and Preston.
There is no mention of an attack on Willesden Junction, although the railway lines at nearby Queens Park were targeted the following evening. My dad was a toddler at the time and his version of the circumstances would have originated from someone else, most likely one of his parents or another adult. As such, it may have been slightly distorted as it was passed through various sets of lips and ears, or it may have been inaccurate or merely conjecture to begin with. Three adjacent houses in the middle of a residential area were clearly not the target of the air raid and would not have taken a large number of bombs to destroy them. This is consistent with the idea that one bomber dropped the remainder of his load randomly on his return to base, but it is unlikely that this can ever be proven.
DAMAGE
Although the Kensal Rise district is very much part of Greater London today, during the war it was controlled by Middlesex County Council, who compiled logs of the air raids that took place. Their log book for the Borough of Willesden on 14 October 1940 reads:
Date

Message Time
Incident Time
Particulars
Remarks
14/10/40
19.55
Bombing
Prelim. report
"
20.48
20.00

Major damage

– H.E. Chevening Road blocked by crater and debris between Kingswood Avenue & Peploe Road. Harvest [sic] Road also blocked at junction with Peploe Road.

Harvist Road cleared 17.45 12/3/41
"H.E." stands for "high explosive" and is different from incendiary bombs; both were used in great numbers by the Luftwaffe. The portion of Chevening Road between the junction with Kingswood Avenue and the junction with Peploe Road does include Nos 71-75, which were directly opposite the junction with Peploe Road. The timing is certainly consistent with the sort of time a young couple might put their three year-old to bed.
The fact that Peploe Road's other end, where it joins Harvist Road, was also blocked, suggests that perhaps there were several properties in the vicinity that were damaged in what was effectively the same incident. With a little imagination, it could be suggested that the same aeroplane had several bombs remaining in its hold and released them as it flew over the district, leaving a trail of destruction. This would also be a fairly direct route south, back towards the area from which they came, as defined in the RAF report.
This log book is held at London Metropolitan Archives who, along with The National Archives, hold various maps of the bombing that took place in the area. Strangely, I have not found any indication of this incident on any map, or on the "Bomb Census", which tended only to record instances of major loss of life.
FAMILIES
The 1940 street directory lists the heads of household for the homes that were destroyed:
| | |
| --- | --- |
| 71 Chevening Road | Miss N Stevens |
| 73 Chevening Road | Sam Marks, Israel Goldberg |
| 75 Chevening Road | Frederick Alfred Basten, Frederick Watson |
The 1939 electoral roll (the last one published before the war) gives more details:
71 Chevening Road

Mary Jane Howard

Harriett [sic] Rebecca Knowles

Nellie Eliza Stevens

73 Chevening Road

Annie Yetta Goldberg

Bertha Goldberg

Emanuel Goldberg

Israel Goldberg

Marie Marks

Sam Marks

75 Chevening Road

Emily May Basten

Frederick Alfred Basten

Gwendoline Florence Watson

Joseph Frederick Watson

Winifred Kate Watson
The listings for No 73 show my grandparents living with my grandmother's family, the Goldbergs. Israel and Chana Ita (listed here as Annie Yetta) were Marie's parents, and Bertha and Manis (listed here incorrectly as Emanuel) were two of her siblings. After the war, the Goldbergs lived in a three-storey Victorian house in Maida Vale, with different floors occupied by various different branches of the family, but my dad and I never realised that a similar arrangement existed at Chevening Road until I consulted these sources. My grandparents married in October 1934 and first appear at No 73 in the 1935 electoral roll; they were joined there by the Goldbergs the following year.
I have researched the families who were listed at Nos 71 and 75, in the hope that their families' oral histories might contain more detail about the destruction of the three houses.
Nellie Eliza Stevens (1879-1958) was a spinster in her early 60s who was born in Chelsea and died in Surrey. She first appears at No 71 in the 1928 street directory and shared the house with various different families over the following years, suggesting she owned it and rented part of it out. Nellie had one sister, also a spinster, and a brother, William Thomas James Stevens (1877-1945). I believe William may have grandchildren still alive, and they are my next source of research. Interestingly, the Stevens family connections with Chevening Road go back further than Nellie's arrival in 1928: in 1911, she was living with her father and sister at No 92 while William and his family were living at No 100.
Harriet Rebecca Knowles (1863-1942) was a widow in her late 70s. She first appears at No 71 in the 1933 electoral roll, along with her husband Frederick (c.1861-1935), presumably as lodgers of Nellie Stevens. She and Frederick had two children, Eveline May Sparrow (1889-1967) and Ernest Frederick Knowles (1895-1961), both of whom were married before the destruction of the houses in Chevening Road. Eveline had two children, neither of whom appear to have had children and both of whom are deceased; Ernest had no children, meaning there are no direct descendants of Harriet Rebecca Knowles alive to ask about the bombing.
Mary Jane Howard (1860-1940) was Harriet Knowles' elder sister, also a spinster, who died in the second quarter of 1940, a few months before the destruction of the houses. She seems to have moved into No 71 at the same time as Harriet and Frederick.
Frederick Alfred Basten (1904-45) had married Emily May Howe (1911-62) in 1933 and, at the time of the bombing, had two sons, John (aged 5) and Peter (4). He went on to have a third son, Michael, before being killed in Belgium in January 1945, whilst serving in the Royal Army Service Corps. I have spoken to Peter and two of his cousins but, even though one cousin remembers Frederick living at 75 Chevening Road, none are aware of any stories within the family of the house being bombed. The Basten family is only listed at No 75 in the 1939 electoral roll and the 1940 directory, so they only lived there for a very short time, presumably as lodgers of the Watsons, below.
Joseph Frederick Watson (b.1887) had married Winifred Kate Gurney (1892-1942) in 1913 and had at least four children, the eldest of whom, Stanley, had died in 1922, aged 8. The others, at the time of the bombing, were Gwendoline (25), Joan (20) and Patricia (15). The Watson family first appears at No 75 on the 1936 electoral roll and it appears that they, like Nellie Stevens at No 71, took in a different family of lodgers each year.
GWENDOLINE FLORENCE WATSON
Tragically, the Commonwealth War Graves Commission reveals that Gwendoline was killed when 75 Chevening Road was destroyed. The entry on their database reads:
| | |
| --- | --- |
| Name | Gwendoline Florence Watson |
| Nationality | United Kingdom |
| Regiment/Service | Civilian War Dead |
| Age | 25 |
| Date of Death | 14 October 1940 |
| Additional Information | Of 75 Chevening Road. Daughter of Mrs. W. Watson. Died at 75 Chevening Road. |
| Cemetery | Willesden Municipal Borough |
This is the most overt and specific reference to the destruction of the houses that I have found anywhere to date. It also ties in with the phrase my dad remembers, which suggested that some people lost their lives, although I have not found any other civilian deaths that might relate to the incident in the families I have researched. The listing also suggests that Gwendoline's father was no longer alive, despite the house appearing in his name in the street directory of that year. To make things even more tragic, Gwendoline's mother Winifred died two years later.
I have not been able to trace Gwendoline's sister Joan, but her youngest sister Patricia married a man named John Kennaghan in 1947. Despite the fact that Kennaghan is a very uncommon surname, I have failed to find them, their deaths or any children they may have had, so I think they may have emigrated. Winifred's sister Isabel moved to Australia, so the remnants of Gwendoline's family could have joined them. I traced the daughter of a cousin of Gwendoline's on her father's side, but she related a story told by her late mother that Gwendoline's house was damaged by a rocket towards the end of the war. This is clearly a different incident and a different house, so the lady has referred me to a distant cousin who lived in the Chevening Road district almost all his life. I am hoping he may be able to give at least a second-hand account of the bombing, although he is now 97 and is in a home.
Gwendoline was buried on Monday 21 October 1940, a week after the houses were destroyed:
The rather dilapidated Watson family grave at Willesden New Cemetery (Section E, plot 91)

(Photo: Saul Marks, 12 October 2010)

Gwendoline's inscription, on the side of the stone

(Photo: Saul Marks, 12 October 2010)

The inscriptions on the tombstone read:

In loving remembrance of our dear little son, Stanley Frederick Watson, who fell asleep on April 4th 1922, aged 8 years, 9 mths. "Sadly missed."

Also of our dear mother, Winifred Watson, who passed away Nov. 22nd 1942, aged 50 years. "Always in our thoughts."

In dearest memory of Gwen, killed by enemy action on Oct. 14th 1940, aged 25 years. "Until the dawn breaks."
NEWSPAPERS AND PUBLICATIONS
The Kilburn Times and the Willesden Chronicle would have been the most likely papers to cover air raids in the Kensal Rise district. Thanks to Brent Archives, I have obtained the front page of the Willesden Chronicle from Friday 18 October 1940, in which it relates the story of the week's raids. For 14 October, the report reads:
FIERCE RAIDS ON MONDAY
Monday night's raids began early and finished late, and soon after the alert went the sound of falling bombs was heard in many areas. They continued falling every few minutes for several hours.
A bomb dropped onto a heap of coke stored in the grounds of a Grammar School, made a huge hole, scattered fuel and earth all over the place and broke a large number of windows on the opposite side of the road.
Another bomb fell onto a recently erected block of flats in a residential locality and completely demolished it. Fortunately, there were no residents in the flats.
A third high explosive bomb dropped on to a large detached house standing in its own grounds. A heap of ruins was all that remained after the explosion, and it seemed strange to see handsome window curtains which had been blown to the trees in the garden, waving in the breeze.
In this area, too, a "Molotov cocktail" was dropped on to roofs and in the road, but the speedy work of residents and A.R.P. workers prevented much damage from being done.
In another suburban district houses were damaged by high explosive bombs. Fortunately casualties were mostly of a minor nature.
Frustratingly, the wartime reporting restrictions and the desire to keep morale up as much as possible mean that very few reports from this time are as explicit as we would expect today. The final paragraph of this portion of the report is consistent with the other information about the Chevening Road bombing, with the word "mostly" possibly being used to disguise the fact that one young woman lost her life and another was injured when their homes were destroyed.
The issues of the Kilburn Times dated 18 and 25 October are held at the British Library's newspaper archive in London. The staff there inform me that the Chevening Road incident cannot be pinpointed in either edition due to the vagueness of the reports.
In 1994, Kenneth J Valentine published "Willesden at War: the Impact on the Community", which devotes a number of pages to what is effectively a month-by-month chronology of the Blitz in the district. Page 23 includes the following paragraph:
October began badly with nine people killed at 130-132 Manor Park Road but in the month as a whole the death rate from air raids (about 17 a week) was only half what it had been in September. Bomb incidents cost four lives in Connaught Road Harlesden on the 5th and four more in Ellesmere Road on Dudden Hill on the 9th; five lives were lost in Mortimer Road on 16 October; four in Oxford Road on the 20th; and four at Guinness's factory in Park Royal on the 25th.
Frustratingly, despite such detail, there is no mention of the Chevening Road incident. Those mentioned are incidents with four or more fatalities, so the lack of mention of Chevening Road supports the theory that Gwen Watson was the only one to be killed in the incident. The quoted statistic of around 17 deaths per week translates to around 68 per month; 30 are included in the named incidents, leaving at least the same number again as casualties of smaller incidents, like Chevening Road.
EPILOGUE
Brent Archives hold various schedules of cleared bomb sites, categorised by the Town Planning & Development Committee in the summer of 1950. The Chevening Road site appears in the tables as follows:
| | |
| --- | --- |
| Site No | 27 |
| Address | 71-75 Chevening Road |
| Category | B ("Recommended for acquisition by housing sub-committee but 'no action' by special sub-committee") |
| Description | Chain link fencing, over-grown dump |
| Frontage (feet) | 72 |
| Area (acres) | 0.310 |
| Recommendations or Observations | Recommend acquisition for housing purposes |
The sad description reflects the fact that, by this time, the site had lain derelict for a decade. Three smart Edwardian properties, home to six families, had been reduced to an overgrown dump surrounded by chain-link fencing. It was, of course, "acquired for housing purposes" and the flats erected.
My research continues, "until the dawn breaks"...
Sources
Nachum Marks
Google Earth
RAF Battle of Britain website: http://www.raf.mod.uk/Bob1940/october14.html
Borough of Willesden air raid log book: (at London Metropolitan Archives, ref MCC/CD/WAR/1/24)
Willesden street directories (at Brent Archives)
Willesden East electoral rolls (at London Metropolitan Archives)
Censuses of England & Wales: http://www.ancestry.co.uk
GRO civil registration indexes: http://www.ancestry.co.uk, http://www.freebmd.org.uk
Commonwealth War Graves Commission: http://www.cwgc.org
Willesden Chronicle, 18 October 1940 (at Brent Archives)
Kilburn Times, 18 & 25 October 1940 (at the British Library's newspaper archive)
Valentine, Kenneth J (1994), "Willesden at War: the Impact on the Community", ISBN 0-951-42581-1
Borough of Willesden Town Planning & Development Committee papers (at Brent Archives)
Saul Marks
Rev 4 Jan 2011